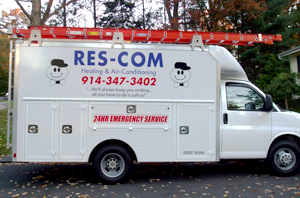 Centrally located in Elmsford, NY, Res-Com Heating & Air Conditioning has provided over 18 years of service throughout Westchester County. Res-Com brings a unique and individualized approach to each and every client's home comfort needs. Our goal is to exceed the expectations of every client by offering outstanding customer service, knowledge of all the latest energy efficient equipment, and great value, without sacrificing your home comfort. Our staff members are distinguished by their functional and technical expertise combined with their hands-on experience, thereby ensuring that our clients receive the most effective and professional service.
As experts in heating and air conditioning, Res-Com is involved in every stage of client selection of all types of heating and air conditioning equipment, offering 24-hour technical support. Our extensive skills encompass all aspects of implementation and operation to fit specific client needs.
Unlike other HVAC companies, at Res-Com we pride ourselves on our proven track record for effectively solving many heating or air conditioning needs. This is due to effectively updating team members with new technology and training classes, while always providing clean and courteous service.
In order to meet the individual needs of clients, Res-Com maintains a wide range of services, such as service and installation of the latest high efficiency equipment, HEPA filtration, Ultra Violet Lighting, and Zoning. We are EPA certified, licensed and fully insured. We also have a wide network of licensed and insured business associates such as, electricians, plumbers, chimney sweeps, duct cleaners, etc. At Res-Com we are continually expanding upon our knowledge and services to assist clients with improving their individualized indoor comfort needs.
Exceptional technical expertise, coupled with extensive industry knowledge, makes Res-Com the ideal choice for a heating and air conditioning service provider for your home.
We'll always keep you smiling... all you have to do is call us!